The Royal Duties assigned by
Their Majesties the King and Queen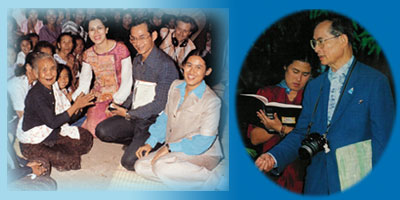 As Thailand is a developing country, most of the population are rural villagers. Some of them reside in remote areas, living with sub-standard quality of life. Among the nation's development process, the relentless concerns of Their Majesties the King and Queen have been parts of Thai people's way of life for decades.
As a member of the royal family, Her Royal Highness Princess Maha Chakri Sirindhorn has seen Their Majesties The King and Queen and the belated Princess Mother, her grandmother, working hard to improve the quality of life of people since she was a little child. She has been taught that to help the underprivileged and needy people regardless of religion, culture and race is the duty of the royal family. Not only has Her Royal Highness followed in the footsteps of her royal parents and grandmother, she personally has developed her own initiatives to help the poor and underprivileged.
Considering Her Royal Highness' dedication in development work and her responsibiliy in performing many official state duties, Their Majesties The King and Queen therefore have assigned Her Royal Highness to the prominent royal duties, including representing Their Majesties in many official engagements. Those designated royal duties could be stated as follows :
THE RESTORATION OF THE GRAND PALACE, THE TEMPLE OF THE EMERALD BUDDHA AND VIMANMEK MANSION
THAI JUNIOR ENCYCLOPAEDIA PROJECT
CONVOCATION CEREMONY
CHITRALADA SCHOOL
NATIONAL ARTISTS
CHAIPATTANA FOUNDATION
ANANDAMAHIDOL FOUNDATION
MAE FAH LUANG FOUNDATION
PRINCE MAHIDOL AWARD FOUNDATION
SAI JAI THAI FOUNDATION
THAI RED CROSS SOCIETY