LANGUAGE SKILL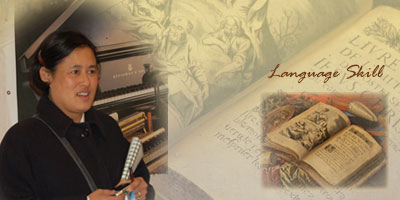 Her Royal Highness Princess Maha Chakri Sirindhorn has been interested in learning languages since she was young. She considers language is the key to get access to all sources of knowledge with no boundaries. In her speech on "Education and National Development" at Srinakharinwirot University on November 7, 1995, Her Royal Highness emphasized the importance of having good knowledge of both Thai and international languages which enables learners to have an opportunity to search for information widely. To broaden her learning horizon, Her Royal Highness has studied many languages of the world including Pali and Sanskrit, English, French, Cambodian, Mandarin, German and Thai, the mother tongue.
Her Royal Highness has been fond of Thai language since she was a child. Her Majesty Queen Sirikit usually taught Thai language to her children when they were young by reading Thai literature to them and asking Her Royal Highness to write down poems so she could remember many of them. While Her Royal Highness was in her elementary and secondary school at Chitralada School, she mostly learned Thai language, literature, and art from Mr. Kamchai Thonglor—her Thai language teacher. When she entered Faculty of Arts, Chulalongkorn University, she chose History as her major and Thai, Pali, and Sanskrit languages as her minors. Her Royal Highness' doctoral thesis, Development of an Innovative Design for the Instruction of Thai Language at the Upper Secondary Level, shows her interest in education innovation.
Pali and Sanskrit were the fields that Her Royal Highness chose to study in her graduate school. She has actually learned these languages with many masters since she was young. Some of these masters were Mr. Kamchai Thonglor and Professor M.L. Chirayu Nopphawong who used A Sanskrit Primer by Perry and A Sanskrit Reader by Lanman astextbooks. Her Royal Highness did not study Pali and Sanskrit only words, but also contents. She learned Buddhist thoughts from Pali and culture from Sanskrit. Furthermore, she thought that it was important that she had an opportunity to study noble life paths from the respectable masters.
For western languages, Her Royal Highness used to write in one of her books that at her youth time, she did not appreciate learning English. However, she started to be interested in it after listening to His Majesty King Bhumibol Adulyadej' speech concerning why people have to learn English and Her Majesty Queen Sirikit began teaching English vocabularies to her. The BBC radio channel played an important role in improving her listening skill. In 1983, Her Royal Highness translated "Where the Future Begins" by Amadou Mahtar M'Bow. In 1991, she received Magsaysay Award in the Philippines and gave the lecture on "My Experiences in Community Development in Thailand" and the speech in English. French was the second western language that Her Royal Highness studied. When she was at the age of eleven, she asked permission of His Majesty the King to study French instead of practising piano. She wrote twenty-one French poems and translated fourteen of them by herself. She also translated her Thai academic work, Inscription of Prasat Bnam Van, into French. Moreover, she translated French literature, Rossignols en Cage by Madeleine, into Thai.
Her Royal Highness first studied Cambodian language when she was in her secondary school. While she was in her undergraduate school, she studied Cambodian with Professor Dr. Kanchana Nacaskul and Emeritus Professor Dr. Uraisi Varasarin who was a student of Professor George Coedes, a French eminent epigraphist. Her Royal Highness' Thai academic work, Inscription of Prasat Bnam Van, and her French translation were derived from her ancient Cambodian translation. In 1979, as an Executive Vice-President and Chairperson of the Thai Red Cross Society, Her Royal Highness applied her Cambodian language skill to help Cambodian refugees. Her Royal Highness began learning Mandarin (Chinese language) when she was twenty-six years old. She had many royal duties and did not have much to learn it.
During 1982 – 1989, she studied and enjoyed Chinese poems. In 1998, her translated Chinese poetry, Verses of Clear Jade, was published. Then, she translated Chinese prose works. In 2000, The Chinese Ministry of Education bestowed The Chinese Language and Cultural Friendship Award upon Her Royal Highness. Furthermore, the Ministry also bestowed the scholarship upon her to study in China during February – March 2001. Her Royal Highness was interested in German language while she was an undergraduate student. At first, she intended to further her study in Agriculture in Germany. Then, there were many factors coming. She stopped learning German for a while. In 1987, she started learning it again with Professor Dr. Ampha Otrakul. Since Her Royal Highness was interested in German language, literature, thoughts, technology, and social development, in 1992, she went to study in Gottingen, Germany for three weeks. During that time, she impresses German press by giving interviews in German.