EDUCATION
Her Royal Highness Princess Maha Chakri Sirindhorn began her schooling when she was three years old, she joined kindergarten with other classmates at Chitralada School in Dusit Palace, the private school founded by His Majesty the King where all royal children were not treated differently from any other students. From the very beginning of her education, Her Royal Highness developed her scholarly ability, showing aptitude for learning which substantiated her consistent academic progress. Adopting the habit of reading from Their Majesties the King and Queen and being guided by her own nature to explore and seek knowledge, she becomes passionately interested in reading and studying Thai and foreign literature. Around the age of twelve, Her Royal Highness started writing proses and poetry. Not only was she keen on academic subjects, she also enjoyed school activities such as sports, music, school fairs and social events.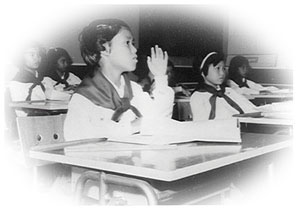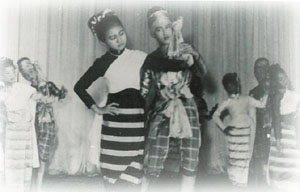 After completing high school education in 1972, being ranked number one in National School Examination, Her Royal Highness Princess Maha Chakri Sirindhorn enrolled in Faculty of Arts, Chulalongkorn University, with focus on history, Thai and oriental languages. Although Her Royal Highness often had to accompany Their Majesties the King and Queen on royal up-country visits, she has put more effort into her study and class assignments. In addition, she regarded the university experiences as invaluable for it gave her knowledge while at the same time provided her great opportunity to get to know people from all walks of life. Her Royal Highness also enjoyed extra-curricular activities on campus just the same as other college students, i.e. "Welcome Freshmen" Party, faculty sports day and cleaning day. She graduated with a Bachelor of Arts Degree, first class honour, gold medal in History in 1976.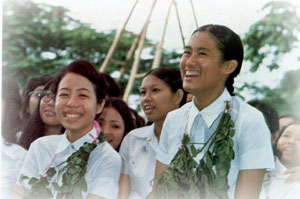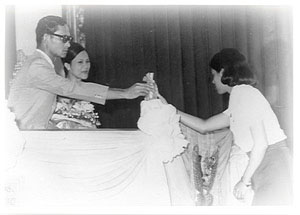 Her Royal Highness Princess Maha Chakri Sirindhorn continued her studies in two Master's programmes concurrently, obtaining Master of Arts in Oriental Epigraphy (Sanskrit and Cambodian) from Silpakorn University in 1978, and Master of Arts in Pali and Sanskrit from Chulalongkorn University in 1980. Her Royal Highness continued her studies for a doctorate with a slightly shifted focus of interest from arts and humanities to social sciences and education, she enrolled in a Doctor of Education programme in Development Education, an inter-disciplinary degree for her professional development at Srinakarinwirot University (former College of Education) in 1981 and graduated in 1987.
The principle of using education as a means of community and social development which Her Royal Highness has acquired during her doctoral studies, together with her former experiences in the field, has served as a solid base for her subsequent involvement in community development activities ever since.
In addition to her formal education, Her Royal Highness Princess Maha Chakri Sirindhorn continued to pursue life-long learning by attending several training courses and workshops to enhance her knowledge and skills in effective integrated development. These subjects include computer, cartography, meteorology, survey and photogrammetry, remote sensing and geographic information system and nutrition. In her own wide-ranging academic pursuits, Her Royal Highness has ensured what she has learned can benefit the people with whom she works.
EDUCATIONAL BACKGROUND
STUDY VISITS AND SEMINAR 1977 - 1997
STUDY VISITS AND SEMINAR 1998 - PRESENT